Well, why not! Makes a change from the normal £100 hamburger run around the local area. The Bulldog was on 12 hours to run until the first 50 hour check after her new engine, so it was as good an excuse as any.

Even better, an invite to Tibenham the first night, to join the Inaugural East Anglia Curry Society evening. It would be good to finally make it into Tibenham after several failed attempts dating back to 31 st December last year.

It all actually started when an email pinged into my inbox asking if I fancied a bit of a flying adventure for a couple of days. Not one to be disuaded from this type of proposal too easily, I of course agreed wholeheartedly. Initially we planned on La Rochelle, then decided on the Channel Islands instead and then weather forecasts made our minds up to go to Tibenham and see where we ended up. The joy of indecision and advance weather forecasting; it was going to happen one way or the other, we were just not entirely sure where.

Bags packed, levels checked, the Bulldog lifted off eager to fly somewhere, anywhere on this late summer evening. First stop was Panshanger to pick up my passenger. First time visit there, full of dread at all the dubious things I had read about it, I was pleasantly surprised and we enjoyed a cuppa before heading between the Luton/Stansted corridor for East Anglia.

After a most pleasant bimble and a close up view of an American refuelling tanker, we aimed for Diss and the railway line that would take us onto base leg. Turning northwards I couldn't resist a bit of rapid height loss and a quick pull up into an aileron roll before drifting downward to the resting place for the evening.




A guided tour later, we made a Formula One style pit stop at the b&b before heading to the meal venue, a pub situated in deepest Suffolk that serves Indian food as its speciality, a useful diversion as the nearest large town (and Indian takeaway) is apparently some 10 miles distant.

New faces met, a pleasant and convivial evening later, my head hit the pillow wondering just where tomorrow would see us ending up. Little did I know where the following evening would be spent!

The day dawned bright with scattered cumulus dotting the horizon and we were soon lined up for a departure to Old Buck for fuel, my shortest flight ever at 4 minutes. My first solo was a longer flight than that one.



At Old Buck, fuelled and ready to head north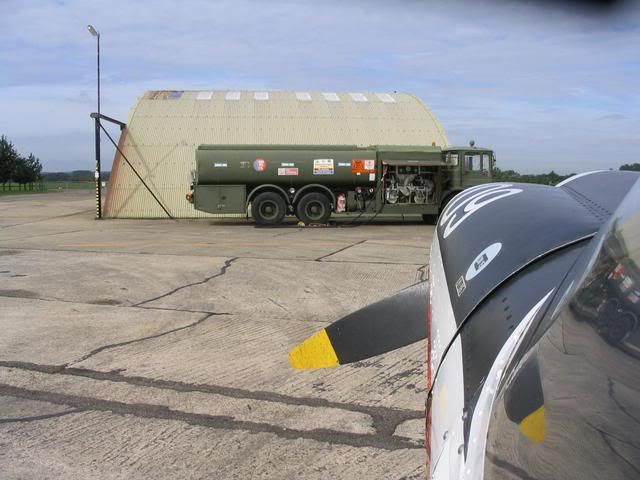 We decided to head north and play it by ear. So we did. We spoke to Marham who gave us a zone transit as we headed for the overhead at Fenland before turning for the Gamston VOR. We settled at 2500' and, apart from just clipping the edge of the odd cloud, managed to steer a straight line across the Fens.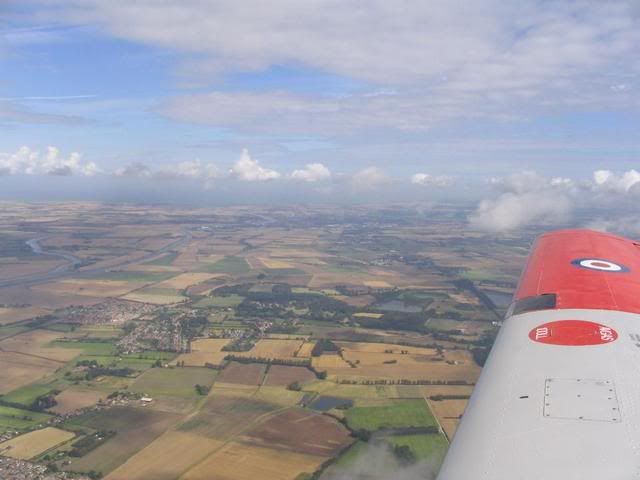 It is not a part of the country I have really flown in before; I went to East Winch and Fenland with Greeners shortly after I passed my Skills Test 3 ½ years ago which was a rushed visit for fuel and that is my sum total of experience along the eastern side of the country really.



Passing overhead Fenland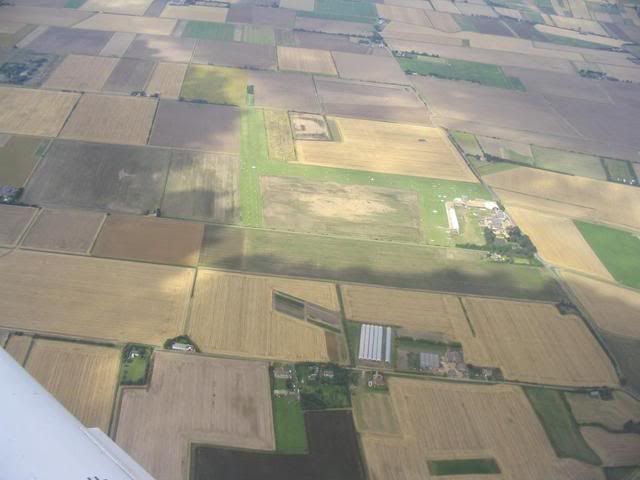 I was actually a little concerned when we were given a different squawk, thinking we may have clipped some airspace or other. However, a couple of minutes later, we were then told to call the next radar station along the way. It became the norm to be given a squawk when we were getting to the edge of someone's zone and then a couple of minutes later we became ready to copy down the next frequency. As someone who flies a lot in the cowboy country of the south-east I found this quite incredible and am still seriously impressed. Simple things 'n' all that!

As the landscape below turned to that of a more industrial look, we prepared for another new airport, Sherburn. With the rain driving down, it appeared out of the gloom as we banked sharply to join downwind to a very wet runway. Bulldog canopies leak, by the way. A friendly welcome and a steak sandwich later, whilst studying the weather, a decision was made. It may be a stop and run if the weather forecast for the next day was no better, but we were going to head for Scotland.

Edinburgh has always held a fascination for me. I find it a strange mix of modern bustling city and historic, esoteric charm. The bright bustling Princes Street, full of people rushing around, the beautiful architecture of the old town, the grandeur of the castle and its grounds, the views from Arthur's Seat, all serve to attract me back time and time again. But never by 'Andy Air'. By road, by rail and by easyJet many a time; I just had to give it a try, even if the weather was looking fairly unwelcoming.

We departed in a westerly direction and were told to follow the A1. Climbing gradually to 2500' we dodged a couple of danger areas and then the hilly country began to appear closer from our left.




Desolate barren landscape, that holds a certain beauty to me, coated in purple heather and deep green conifer. Valleys give escape routes or dead ends, higher would give us a fluffy white landscape, so we elected to stay below for the moment. Dark shower clouds passed to our left and the land below grew closer as we sat there savouring the magnificent view. It may have only been a 2500' cloudbase, but the visibility outside the showers was awesome.




Passed from Durham Tees to Newcastle and then to Scottish we were becoming a little lazy with the map, relying a little too heavily on the GPS whilst we enjoyed the sightseeing and chatter.

As we introduced ourselves to Scottish Information, the GPS announced 'Satellite Reception lost' and a frantic few minutes cross-checking radials and getting a positive identification point on the ground followed. Particularly as he was warning us about danger areas, which as it turned out we had passed some while ago. Trust us to pick a town to circle over, that had one of the same name in another Scottish county!

Squeezing ourselves over the last high ground we hit the coast around 30 miles east of Edinburgh and set course for Edinburgh on a radial from SAB VOR, calling up Approach as we did so.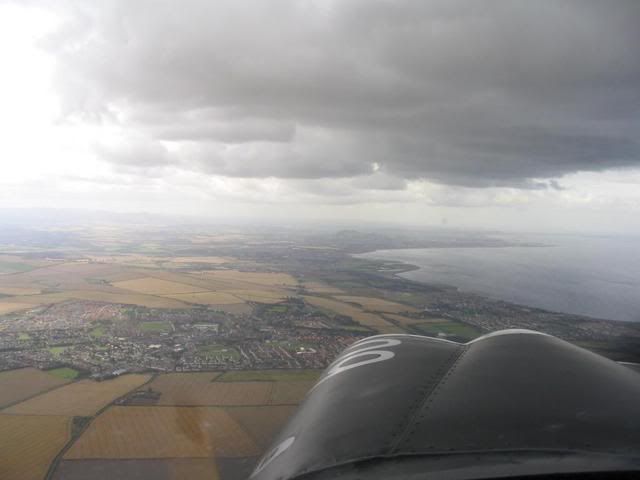 What a friendly welcome. Signature, the handling agents, had done their job well, we were on time also, and they were expecting us. Asked to report at Musselburgh, we kept an eye out for a 172 also joining at that point. We spotted him off to our left, clearly making a beeline for the airport. Slowing down a little, he called first and was given a left base join for R24. Upon calling I was given the option of joining directly behind him or calling at Leith Docks. Very pleased for the option of flying past the city I love, I naturally took the Leith Docks route.

Arthurs Seat, Edinburgh



Imagine my delight once I called at Leith, to be asked if I fancied a couple of orbits over the city. The grin became wider and I was like a dog with two tails. Orbiting the castle and the city was like a dream come true.

Leith Docks


Edinburgh Castle - sorry about the reflections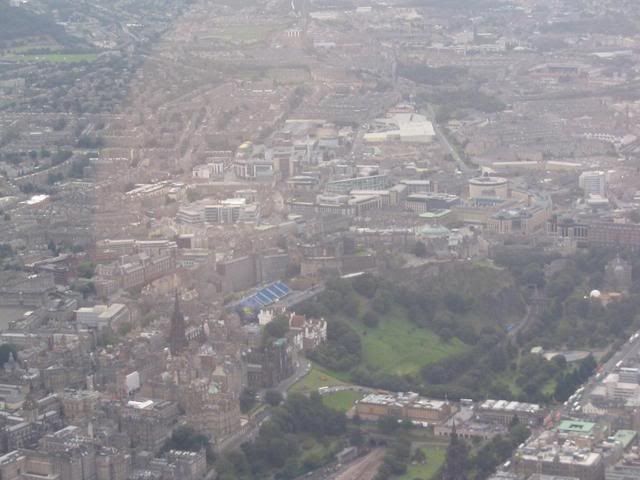 Princes Street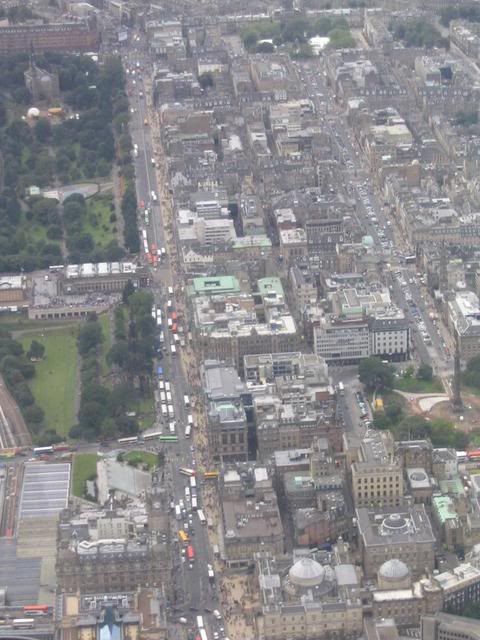 Beautiful architecture



Like a little boy at Christmas I circled over the city before reluctantly heading back to the docks and giving the approach controller a call to tell him I was ready for final approach.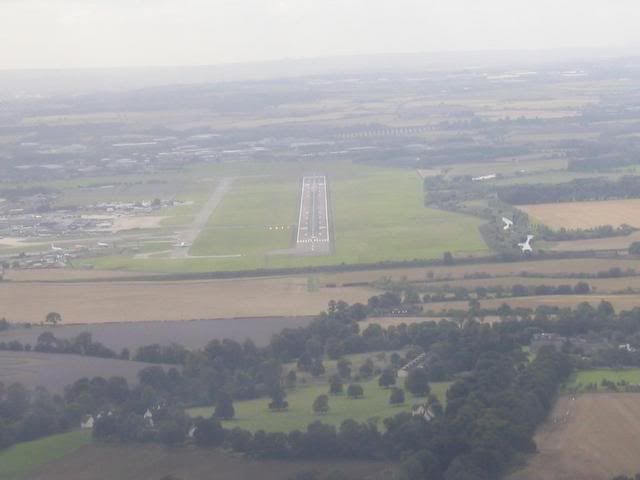 Four mile final established, Edinburgh Tower on the radio and a 'best speed and vacate at the first exit', I enjoyed the view down an approach I could only have dreamed of a few years ago.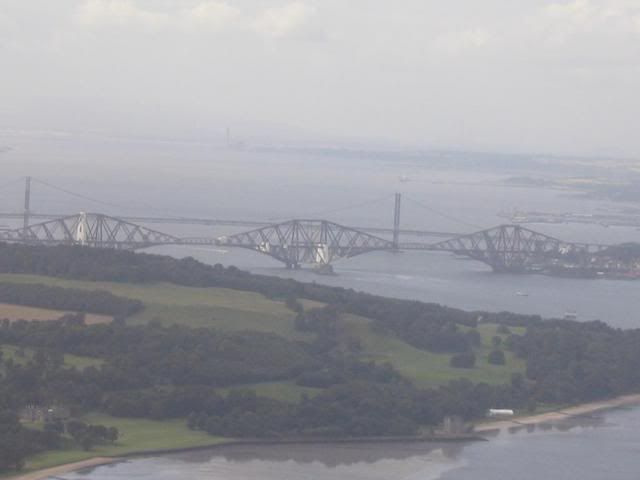 A Brittania ### on 4 mile final was told expect late clearance as we crossed the railway line and I realised just how wide the runway was as it seemed to swallow us up before flaring for a reasonable landing and a vacate left.

Switching to Edinburgh Ground, some rapid fire taxi instructions followed, that I will admit I was not quite ready for, which was proved as we ended up head to head with a Dash 8, necessitating a quick 180 and an embarrassed wave along with a very red face. Upon arriving at the correct apron, our marshaller had not appeared and we were told to hold position until he arrived. Which I did. Much to the annoyance of the Citation who was clearly almost ready to roll and sat there with an exaggerated heads in hands stare in our direction. I was more scared of annoying the ground controller though!

Marshalled in, chocked and checked, we were whisked a whole 150 yards in a leather seated minibus to a very plush waiting area, with free coffee and biscuits. We made a beeline for the internet to check the weather system that was coming in from the west, threatening to spoil the overnight stay. I did not fancy departing Edinburgh in solid IMC in something I have done no IMC in and with a less than proven engine. I am a great fan of a stick to fly with, but I am less of a fan with using a stick against a yoke in cloud. After some more familiarisation I may well feel differently, indeed I did some shortly afterwards that was not that difficult.

After much deliberation it was decided that the thought of departing in the forecast very low cloudbase with all that granite around, in a minimally equipped aeroplane, would be foolish and it would be far better to depart this afternoon whilst we could still see forwards and get as far south as we could. Of course, most of the UK closes down at 1800 local, so we had to find at least one place that was open for us as a potential 20.00 arrival. As usual Leicester came up trumps (thanks RobL) and we had the back up of a couple of smaller fields, so we reluctantly gave up the thought of a night in Edinburgh and booked out.

Of course... the bill.

Approach, handling, navigation charges, parking (a few pence plus VAT!) and so on, came to just over £64 (negotiated), though there was no negotiating on the fuel (92 litres at £1.53). It was not as bad as I had been led to believe, but would have been more had we stayed overnight. I think they took pity on us having to depart so soon, hence we got a chunk off the handling fees. Initial quote was substantially more, it has to be said. I had no objection whatsoever. Friendly, efficient and very presentable. I'll be back!

We were given the option of using the main runway or the crosswind one (the controller letting me know the main had 9 knots xwind component). I am not sure whether he was disappointed or not when I opted for the main runway without a second thought. Cleared to M3, then M1 and then to D3, we were soon sandwiched between a jet and a turboprop, who was soon to be told he had missed his slot, so we had 737 traffic behind us instead. I discovered that a canopy is useful for poking a camera out of and taking a 'what's behind you' type shot!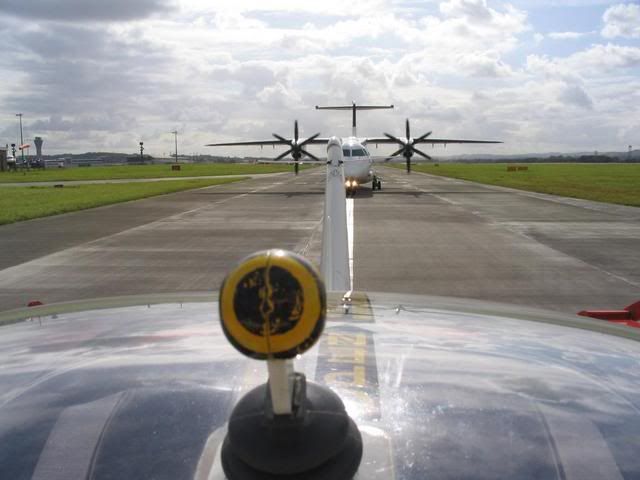 As we were holding next to line up we got a lovely close up of an easyJet landing and then it was our turn.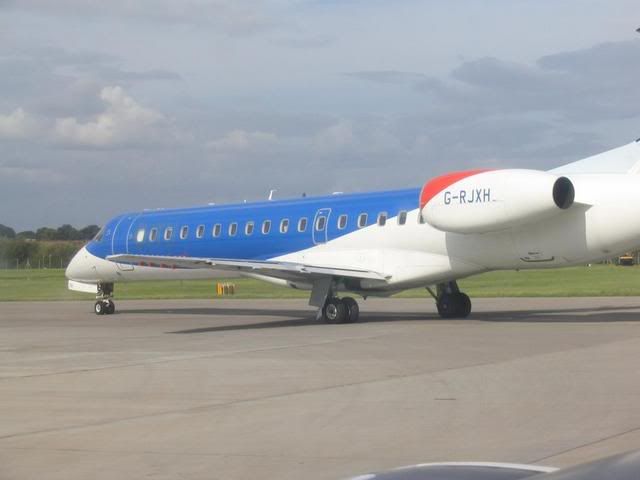 SVFR, left turn for a Hillend - Dalkeith departure, clear take off. With the 737 lining up behind and given take off clearance with the Bulldog in sight, I pretty soon turned left and admired the jet taking of beneath us. At least he had no worry about our wake turbulence.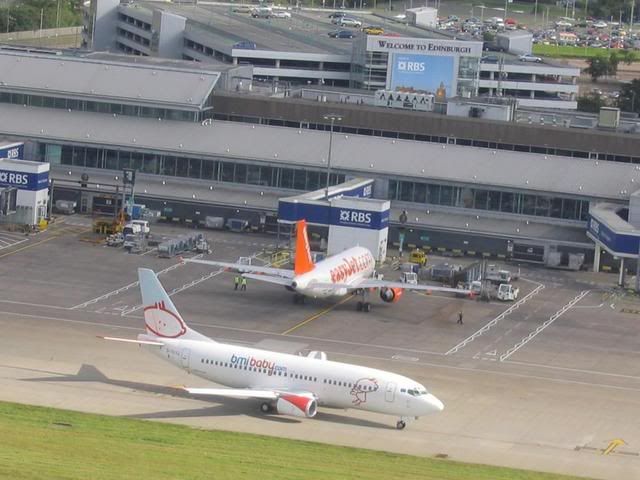 With the hills very close to our right wing, we headed back out to the east, a BAe146 routed over our heads, waving goodbye to the city I love and setting up the VOR for the expected GPS failure ahead. Sure enough it failed and it was back to old fashioned nav as we turned south.




Routed overhead Newcastle and just to the east of Durham Tees, we were again passed from controller to controller with minimal effort from us. We got a marvellous view of Sheffield City, lights just being turned on underneath a threatening dark sky and a glowering sun peeking out from a gap in the clouds. Tuning into East Midlands, we stayed on course, being made aware of the commercial traffic turning onto the ILS at one point and admiring it as it passed behind us.

Suddenly busy on frequency, we were almost overhead Leicester before we got the chance to switch. Well past closing time, I was glad of the PPR for late arrival and we did a neat descent and approach to touch down in this most unexpected of night stops. RobL strode out to meet us, beer in hand and we cast envious glances over the sumptuous leather clad interior of a visiting AN2.

Rob had us booked into hotel rooms within 5 minutes and we sat back and enjoyed a couple of pints with him as the sun was setting over the airfield. I really do love this place, it is almost from a different era and promotes the freedom of a real flying club over an school type airport. I can just see my home base allowing me to practice for my DA low over the runways, turning and swooping in the late evening light. There is something rather liberating about calling Traffic, rather than Approach or Tower.

Beers consumed, our fellow aviator kindly gave us a lift to our nightstop and waved us goodbye. We had been recommended to try the Cantonese restaurant next door, so we figured that would be a good idea. It was. Jolly fine food, washed down by equally good wine and accompanied by sparkling conversation made up for not dining out in Edinburgh. Hey, the joy of following your nose! You never know where you will end up.

The rest of the journey home was pretty uneventful. We played tag with an easyJet on base leg at Luton after a RIAB at Little Gransden. I discovered just how much even a light tailwind can affect take off performance at Panshanger. I listened to the transitting Eastbourne Airshow traffic as I arrived back down south again and I failed to get Shoreham to put Edinburgh as my point of departure on the Arrivals board in the terminal. After all that flying and some lovely landings I relaxed too soon and bounced it on at Shoreham too - a lesson that should have been learned already as I did the same thing after a long trip a couple of years ago in Keef's Arrow. Never relax until the tie downs are on!

Two days.

Great fun.

It is all too easy to forget that flying an aeroplane allows you to do some outrageous things. The thought of driving from Norfolk to Yorkshire for lunch, Edinburgh for afternoon tea and then Leicester for dinner is ludicrous. Yet flying that route is pleasurable, stupidly easy (providing a few simple rules are followed) and fun.